Margaret Davenport is interpreting space with line, cut-and-pasted paper and paint. Finding the place where a medium goes beyond itself to metaphor and is beginning to take the observer to inner spaces connecting to a new ground self. This is painting from a place of discovering, accepting and becoming; an ongoing learning through the capabilities of mind and heart. Moving materials and light to create fresh experience, Meg is an artist loving, playing with and sharing new perspectives.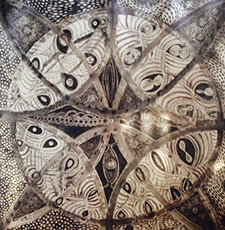 Ground State Energy In these paintings Margaret is exploring discontinuous leaps into non-ordinary spaces with pattern and value. These double sided canvas skins, painted with micaceous iron oxide, are reflecting a spectrum of energy and space enhancing their play with light, weight and line. They are spaces that can be rolled flipped, layered or folded.
Inquire for availability. Meg will consider special projects.