The Artist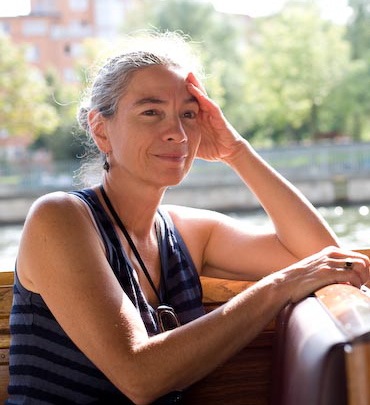 Margaret Davenport is using her art to create relationships: the relationship of line to shape, form to depth and color to color. Art is a universal spectrum of metaphors reflecting our collective states of being. The artist's hope is that all of our intention and creativity brings us to deeper understandings together; challenging, meeting and opening our hearts to evolution of body, mind and spirit.
Photo: Annick Muller
Davenport is a graduate of the University of Cincinnati's old School of Design, Architecture and Art. Early journeys began looping together fine arts, graphic design, theater arts and the Design Revolution of R. Buckminister Fuller. Meg illustrated and co-wrote the children's book: Circus! a Pop Up Adventure. (Simon&Schuster,1998). It is a feminine sense of moving meditation in the vacuum field of resonance, folding and flowing into a connected universe, that informs her life and painting. Use this link to see a list of her Exhibitions, Awards and Education.