Meg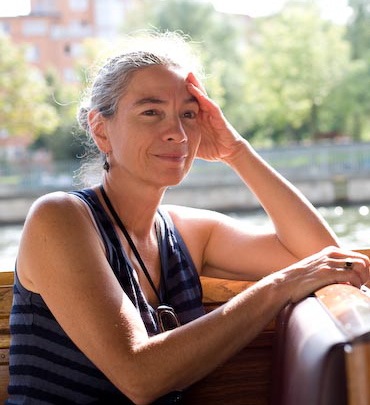 Margaret Davenport "What are the questions to ask when encountering art? Is there openness to experience? Can we trust ourselves and allow the artwork to create a relationship with our current understanding? Can we give the Work the benefit of our doubts? Is is possible to be uncomfortable with this object and stay within its orbit longer still? To push and be pulled. I make the art and the art makes me. It is a life long relationship of trust and expression- What Now?"
Photo: Annick Muller
Davenport is a graduate of the University of Cincinnati's old School of Design, Architecture and Art. Early journeys began looping together fine arts, graphic design, theater arts and the Design Revolution of R. Buckminister Fuller. Meg illustrated and co-wrote the children's book: Circus! a Pop Up Adventure. (Simon&Schuster,1998). It is a feminine sense of moving meditation in the vacuum field of resonance, folding and flowing into a connected universe, that informs her life and painting. Use this link to see a list of her Exhibitions, Awards and Education.